BeSoccer - Soccer Live Score
Live Score App – Follow Live Scores of Soccer Matches
Are you a soccer fan? Do you support a club but can't watch their matches live? If yes, then this live score app can be of great use to you. BeSoccer – Football Live Score is a nice app which keeps you updated with the live scores of soccer matches being played all around the world. It will provide you a minute-by-minute account of what is going on in the match. You will almost feel as if you are watching the match live. Aside from live scores, you can read up on news relating to your favorite team and club. If you are a fan of a particular player, you can see all his stats and compare them with other players.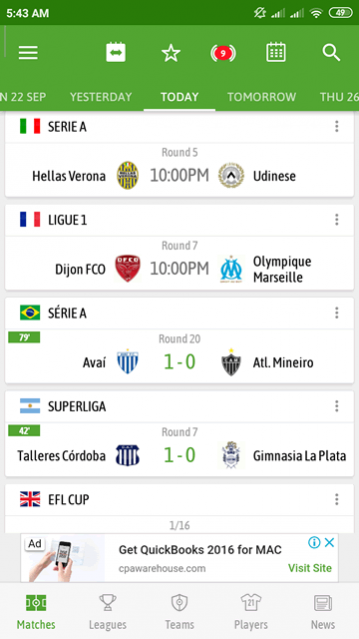 BeSoccer – Football Live Score has an intuitive user interface. So, you won't have any issues in interacting with this live score app. Moreover, it features a user-friendly design and layout too. This means that navigating this live score app isn't difficult either. The home screen provides you easy access to different sections of the app. These sections are Matches, Leagues, Teams, Players, and News. You will find the links to these sections provided in the form of buttons which are lined up at the base of the home screen. A simple tap on the button and you will be taken to its corresponding screen immediately. In the Matches section, you can see the live score of all the matches that are taking place in the world at that particular moment.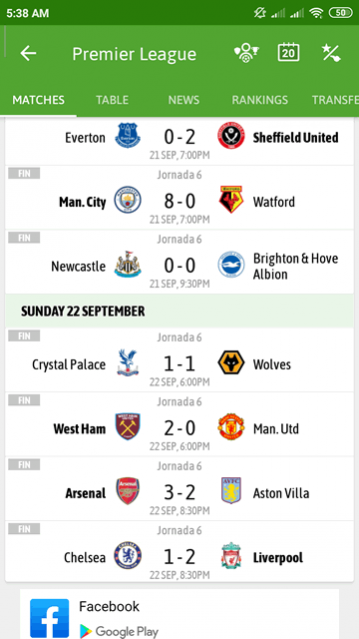 This live score app doesn't only show you live scores of current matches but also provides final scores of matches that had been played earlier. You can also look forward to fixtures that are going to be played in the coming future. BeSoccer lets you follow your favorite club or team and provides notifications when they are in action. You can find the club you support in the Leagues section of this app. Here you will see all the football leagues and competitions that are held in different parts of the world. You can easily search for your favorite club in here and begin following it. This will allow you to receive alerts regarding their every move. From league standings to player transfers, you will be kept well-informed about your favorite club.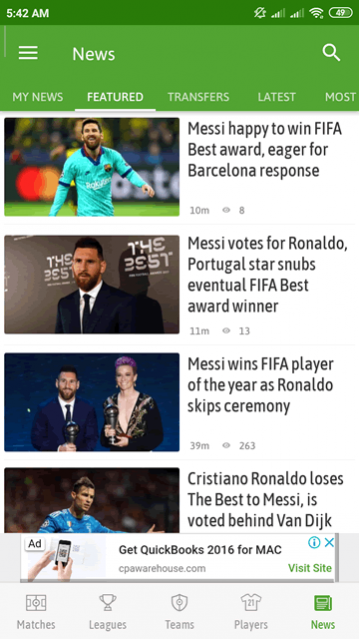 BeSoccer – Football Live Score lets you follow the careers of players as well. It provides detailed profiles of all the top players in the world. You can see where your favorite player ranks among the best and also compare their stats with other players. This live score app offers you the latest news from all over the soccer world too. You can browse stories and catch up on the new developments taking place in the world of soccer in the News section of this app. There are various customization options provided to you in BeSoccer as well. They help you in personalizing the app as per your preferences.
Features:
Intuitive user interface
User-friendly design and layout
Follow live scores of all matches
Get updates regarding matches of your favorite club
View lineups, news and league standings of your favorite team
Read up on transfer rumors relating to your club
The latest news available from around the soccer world
Player standings on offer with detailed player profile
Lots of customization options on offer
Conclusion:
BeSoccer – Football Live Score is an app which is aimed towards people who are passionate about soccer and support a particular club or football team. It lets them follow the live score of every match involving their team and also read up on news regarding their favorite club and its latest standing in the league table. It is an excellent live score app to have on your phone if you are too busy to watch the live match.
---
Add a review
Tell us your experience with
BeSoccer - Soccer Live Score
RELATED PROGRAMS
Our Recommendations
---
---
---
---